There are lots of historical places to see and learn about. Our kids should explore these places with family and learn more and more and that's why we are providing a few awesome essays on visit to a historical place in English for all classes. I hope you guys will love these essays a lot. These are written by expert writers.
Short Essay on Visit to a Historical Place (200 Words) for Class 1, 2
Introduction: I have got an opportunity to visit Taj Mahal a few weeks ago. Taj Mahal was like a dream to me. One of my friends was moved to Agra and he was calling me continuously to visit his place. I liked Agra a lot because I was never been there. That's why I thought to make a tour and enjoy my time. Finally, on a fixed date, I left Delhi with a train for Agra. The journey was really good and I enjoyed the journey by train.  
Historical Place – Taj Mahal: We all know lots of information about Taj. It's one of the most beautiful architectural monuments in the entire world. It's an amazement for the civilized architectures that is pretty impossible to build a building like this. Mughal Emperor Shah Jahan built in upon his loving wife Mumtaj Mahal's graveyard. He did this to express his love for his wife. And that's why Taj is considered as one of the biggest symbols of love. Lots of couple from India and foreign countries visit Taj Mahal to make their bond stronger.  
Conclusion: I had a really amazing time there in Agra. It's a really beautiful place with so much fun.    
Visit to a Historical Place: Short Essay (300 Words) for Class 3, 4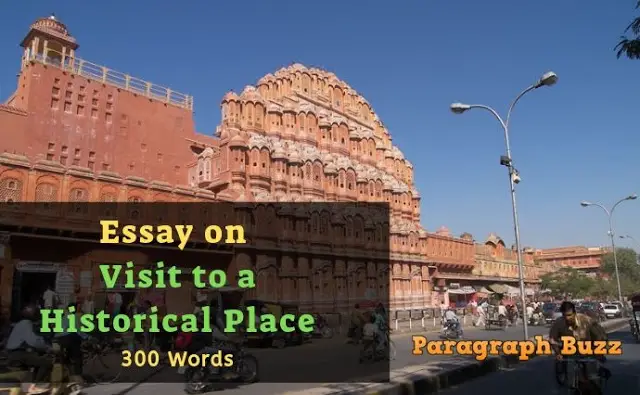 Introduction: After my final exam, I planned for a summer vacation and my father planned to visit Jaipur due to his few business works. I thought to join him because we have lots of relatives there. I have a few very close cousins too in Jaipur. They are really awesome. I love to spend time with them. I was really excited about meeting with them. In the meantime, I didn't have any plans to visit a historical place. But I was watching a travel video related to a few historical places in India. I was impressed to see the Hawa Mahal in Jaipur. The beauty of the architect of this building amazed me. And I finalized to visit that awesome spot.  
Why I Planned to Visit a Historical Place? There are a few reasons for visiting a historical place. I wanted to learn more about Indian culture and history. I love our tradition and I always wanted to enrich my knowledge about it. When I was watching the Indian historical places in the video I was feeling so thrilled. These are the reasons behind my visit to Hawa Mahal.  
Hawa Mahal, Jaipur This amazing building is so big with more than 953 intricate windows. This is one of the most important tourist attractions in Jaipur. Lots of Indians and foreigners arrive daily to enjoy the beauty of Hawa Mahal. This amazing architectural building has got the name 'Palace of Winds', because of its look-alike honeycomb.    
Conclusion: I enjoyed the time very much in Hawa Mahal, Jaipur. Now I wish to visit more historic place in my country. I am suggesting and recommending everyone to visit Jaipur. It's an amazing place for travelers. You will have so much fun and new experiences that will blow your mind.    
Visit to a Historical Place: Essay (400 Words) for Class 5, 6
Introduction: Traveling is always fun and if it's with your family then it's really so much fun. I have got that fun experience a few weeks earlier. I always appreciate my family as the best family and they are really supportive with me. I was asking my father for a tour after the summer vacation. He was agreed with me and took us, my mom, my sister and me in Delhi for spending a fun time with our cousins, uncles, and grandparents and of course to see some really important and historic places. I am going to share my experience to visit a historical place in India. I was there with my mother, my father, and my sister.  
Visit a Historic Place with My Family: Qutub Minar or the Towering Glory is Delhi is one of the oldest monuments in India by Mughal Emperors. Qutb-ud-din Aibak was the first ruler in North India and this monument has gotten its name from him. There are lots of verses of Quran in it, mostly written in Arabic. Quwwat-Ul-Islam Masjid, the very first mosque in India is located near Qutub Minar. It has amazing construction and has not been damaged even after 2000 years.  
What I Saw There? I was always loved seeing new places and especially the places are related to our history. Qutub Minar is a really popular monument and related to our history. That's why I thought to be there. I enjoyed my time there and it was a very fun moment for me. The place was full of tourists and lots of them are foreigners. I always love to interact with foreigner peoples. I talked with a few of them; it was a very good experience for me.  
Conclusion: We should explore historical places like Qutub Minar more and more. It will let us learn about our history. It will help us to gather more knowledge.    
Essay on Visit to a Historical Place (500 Words) for Class 7, 8
Introduction: Visiting a historic place is a really wonderful experience for everyone. I prefer traveling and I choose my destinations in really attractive places. And that's why I like historical places a lot. India is a really big country with numerous options for traveling. A few weeks ago, I was traveling Red Fort in Delhi, I will share my experience with this here.  
A Historical Place in India: Red Fort is one of the oldest and beautiful monuments in India. It was constructed over ten years from 1638 to 1648. Once Shah Jahan moved the capital from Agra to Delhi, in that time they were using this fort as Qila-e-Mubarak. This is the place where the president gives his speech on an independent day. An interesting fact about Red Fort is, it's actually constructed with white color but in the British ruling time they painted it with Red. There is a place in Red Fort named 'Rang Mahal'. If you visit this place, you must be there. I loved that beautiful place.
It's the place where the wives of the Emperor, mistresses, and maids stayed. Actually, I am from Mumbai and I have a wish to visit Red Form from a long time ago. One of my friends Satish was staying in South Delhi, he was asking me to visit his place. I was pretty much free because of my winter vacation and that's why I decided to visit him and gather some traveling experience. The train journey was pretty enjoyable. I was being on a train for the very first time. I was really excited. I was truly amazed to see the natural beauty of India. I loved it.  
Why Should We Visit Historic Places? We often need to visit historic places. To learn the history will enrich our knowledge and let us understand about our ancestors. Lots of historic places have really amazing beauty to explore. Some of them have so many things to learn from. If we visit such places, we will be able to learn so much about our past culture, music, architect, etc. We need to visit personally and need to inspire others for visiting such amazing places. There are lots of places to see in India. We should start exploring them.  
Conclusion: After all, it was an amazing experience for me to visit a historical place like Red Fort. I learned so much about our ancestors, our history and tradition. I suggest everyone visit such beautiful places for gathering more and more knowledge. It will help you to learn more about your own country. I thought to visit a few more places this year.    
Visit to a Historical Place: Essay (600 Words) for Class 9, 10
Introduction: There are hundreds of historical places in India. We have so many options to explore. A few weeks ago, I visited a really exciting and popular place. I will share my experience in this essay. I will tell you how to go there and what to see. Why this place is so attractive?  
A Historical Place that I Visited: A few weeks ago my friend Kamal called me and asked me to spend the summer vacation in his place. I was agreed and left me on a train journey and arrived in Agra. Agra is one of the most beautiful cities in India. And we all know that it's popular because of the Taj Mahal. Yes, I am going to share my experience of visiting the Taj Mahal. Taj Mahal has a really brief history. It the time of Mughal Emperors, Shah Jahan built it to express his love for his wife Mumtaz Mahal. Then it has been named as 'Taj Mahal'. My intention behind going to Agra was the Taj.
I have never been in this amazing city and never saw this historic place and that's why I thought not to miss this chance. This beautiful architectural monument is located bank of river Yamuna. It's one of the biggest rivers in the subcontinent. It is said that more than 20000 workers worked for 20 years to build this building. So you can imagine how big it is. I was surprised to see the artistic design in the wall and doors. It's pretty much impossible to do in this time. This Taj is one of the best examples of Mughal architecture.  
Things to See There: There are so many things to see in the Taj. I suggest everyone be there in the afternoon. In the time of sunset, the whole scenario is unbelievable beautiful. I just loved the entire scene. It's dreamy and loving for me. I wish to be here one time as a couple. The most important thing to see in the Taj is its architectural designs. If you understand modern architecture, you will be surprised and amazed at how it that possible to build such an amazing thing at that time.  
How to Go There from Delhi? There are so many easy ways to visit Agra from Delhi. The best way to go there is a train. I went there by train. The main railway station in Agra is Agra Cantonment (AGC). It is better to depart from Hazrat Nizamuddin Railway Station (NZM), Delhi. In the winter season, the trains are delayed due to fog problem. There are so many trains to go Agra from Delhi. You can also visit with the bus, but I suggest and prefer train due to safety causes. A journey by train is more entertaining than a bus journey.
I really enjoyed the entire journey. I was alone but made few friends on the train who were going into the same destination. I have never been on a train journey often, so it was pretty confusing and hesitating for me. But at the end of the day, the journey was amazing and super.  
Conclusion: A very big number of tourists visit this historic place every day. People from all across the world come to see this symbol of love; they come to make their love stronger with this example of real love.  
Related Search Terms: 
• a visit to a historical place essay 100 words
• essay on a visit to a historical place for class 8
• essay on visit to a historical place for class 4
• paragraph on a historical place I have visited
• a visit to a historical place essay points
• short essay on visit to an interesting place
• a visit to a historical place essay 250 words
• a visit to a historical place for class 7
• essay on a visit to a historical place for class 6
• descriptive essay on a place of interest I visited  
Similar Essays and Paragraphs: