Social media has brought a huge change in our lives. Your child should learn about this. Here are a few short and simple essays on social media.
Social Media: Short Essay (200 Words)
The time we are living is a time of digitalization and the internet. People are connected with each other wireless with the help of social media. Social media is having a really amazing impact on our social life. Most of the people think this is a boon for us, but some of them think it's actually a curse.
People have been connected to social media in a high range, and there are good and bad sides of social media. We can do so many good things and as well can do so many bad things, it's all about our mindset and intention.
I am a social media marketer; I help people to grow their business on social media. It's an amazing platform to build a business. So you can realize there are a lot more good sides to it. As an example, I have found lots of my old school and college friends that I lost due to communication.
Facebook and Twitter let me find them and have a friendship again. That is definitely awesome for everyone. It helps us to find new people, make new friends, and open lots of opportunities in front of us.
Social Media and Its Impact on Youth: Essay (300 Words)
Introduction:
Social media is a medium to connect with people through the internet. In this digital world, everything is being based on the internet. Social media has brought a huge change in the communication system. It has been really easier to connect with anyone in the world.
You can send your photo, text, or videos within a couple of seconds in anywhere in the world. It's such a powerful tool to express our creativity. Social media not limited to communication only. People can spread social awareness with it. It several issues, we can make a group and let people know about it. It has been really simple and easy.  
Good Impact on Youth:
According to stats, the biggest numbers of social media users are youth. There is a lot of good impact on them that I am going to share. At first, social media is a place to spread knowledge and learn something new.
In the world of blogging, everyone is writing some interesting and informative content that might help you to learn something better. You will be able to find lots of likeminded people. That's the best thing I think. Besides this, getting information about your job, hobby or profession is another interesting thing is social media.
People are building businesses these are depending on these types of platforms. It is really good and it helps the youth to understand the leadership and entrepreneurship.  
Bad Impact on Youth:
With so many good things there are some bad impacts also that could happen to anyone. Cyberbullying is a massive problem nowadays. But we can stay out of these problems if we become little aware. Sometimes young people get addicted to social media. They make lots of opposite gender friends and start spending time with them doing chatting. That kills time, but they don't realize it. Most of the students face massive loss in study.  
Conclusion:
I think along with bad impacts, it's an important thing for society now.    
Essay on Advantages and Disadvantages of Social Media: (400 Words)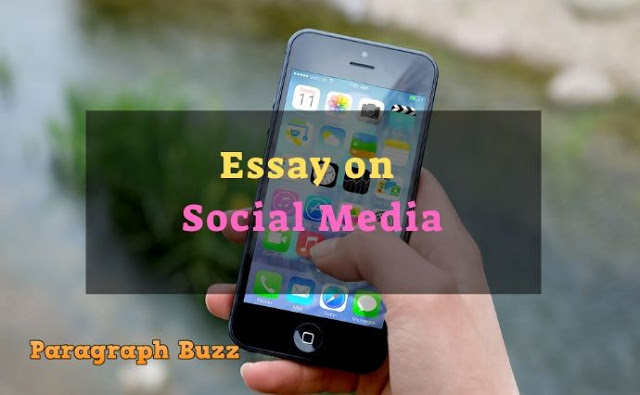 Introduction:
Social media has both sides, good and bad. There are lots of advantages that might change your life, and also some disadvantages that can ruin your life. The decision is on your own. Whatever you choose, you will face it. Today I'm going to share some advantages and disadvantages of social media. I hope you will like it.  
Advantages of Social Media:
I know a guy who started a business based on Facebook and now he has earned a lot and builds a company on it. We all have a dream to achieve something big. In this digital world, businesses on the internet have massive opportunities to get a bigger scale.
The youth can start a small business with few products on social media. It's very easy. You just need to connect with a few likeminded people and promote your products to them. Apart from your own business, you can work as a social media marketer for another company.
This job post is being popular day by day. Thousands of peoples are joining and learning this every month. I think it's the biggest advantage. There a lot more than I can include, such as calling anyone for free. You can send a message to anyone anywhere in the world for free, it doesn't take even a second.
Is not that amazing? It is. The whole communication system has been changed, people have started watching videos, news, and sports in social media. It's a digital revolution.  
Disadvantages of Social Media:
With so many advantages, it has a few disadvantages too. It totally depends on the user intention. A platform is not bad, but people use it in the wrong way. Sometimes they spread fake and hatred messages through a certain nation and make a bad situation. Spreading fake news is the biggest problem in social media.
Most people can't control their current emotions and share the news and it gets spreads more and more. They don't verify the reality. Some websites and newspapers want to make more money creating such false and clickbait news. We need to be aware of them. Cyberbullying is another disadvantage.  
How to Use Social Media in Proper Way?
There are a few ways that could make social media a perfect place for the youth. It has enough opportunity and chances to use as an educational tool. We can learn more and more with it.  
Conclusion:
Social media is not a bad thing; we just need to use it in a proper way.    
Essay on the Importance of Social Media in Education: (500 Words)
Introduction:
Social media has huge importance in our daily life. It has made so many changes in our lives. Nowadays people can't think a single day without it. There are so many good ways that you can follow to use social media as an educational tool.
We as educated people need to learn this and use social media as a good thing. Some people think social media is like a boon for mankind and some people think it's like a curse. Both are real, it totally depends on which way you are using it. As good people, we need to use it in a good way.  
Importance of Social Media in Education:
Now there is a huge importance of social media in education. Suppose, there are lots of websites and blogs these are related to several subjects. Suppose you are studying 'Civil Engineering'. Now you want to learn more from the internet, you will find lots of blogs and websites related to your subject.
Now if you want to learn the updated thing and want to keep learning, you can follow their social media page and get connected with them. Even you can send your message to them and ask if you face any serious problem. Most of the time, expert peoples run those pages, so they can answer you.
There are thousands of learning and educational groups on social media. If you face any study problem, you simply can post your problem there. You will find lots of similar students who can explain the matter to you.
Even you can make lots of likeminded friends, who could be your real friend too. Isn't that interesting? I think it's interesting enough. Through this process, you will be able to learn whatever you want to learn. Sometimes, you can answer others questions on these groups.
That might show you as an expert, you can get a little popularity in social media. But you should not waste your time there. Everything has a limitation; we need to understand our limitations. We should not make a problem in our real life for social media.  
How to Improve Education System with Help of Social Media?
The education system could be improved with help for it. I have seen a few universities are using a Facebook group to stay connected with their students. It's very simple and easy. When someone gets admitted, he or she joins the group. All suggestions, syllabus, results, notice everything gets posted on the group. People are really active on social media, and that's why anyone doesn't miss these. It makes really easy to interact with your teachers and other classmates. You can join in their conversation and get yourself introduce and make new friends. New friends mean new opportunities. So in this way, we could improve our education system.  
Conclusion:
Education is really important for everyone. Platforms like Facebook, Twitter, etc can help us to make our education system better. We need to use these platforms to make a change for the better.    
Essay on Importance, Positive, and Negative Impact of Social Media (600 Words)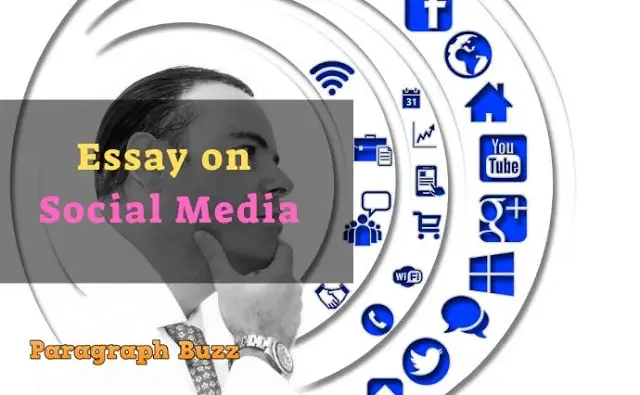 Introduction: Social media is a really important thing now. Billions of people are connected with each other on several platforms. It has enormous popularity and a huge number of users, and that's why it has good and bad sides. Today I am going to share the importance, positive, and negative impact of social media.  
Importance of Social Media:
First of all, let's see the importance of social media. In this digital world, it has been a part and parcel of our life. There are lots of people who can't think even a day without it. Thousands of businesses are depending on several social platforms.
They are having their clients or customers from social media. So it's really important for lots of people. We have us loving people on these platforms and we need to stay connected with them. Some people run courses or several topics; they need to find students and stay connected with them.
It's an amazing place to learn something new. That's why people are getting attached to these platforms a lot. Billions of people are using this at the same time.  
Positive Sides: There are lots of positive sides of social media. I will include a few of them and I hope you will love it. First of all, it is an awesome education tool. We can learn and teach in these platforms easily. For learning something, we need to get connected with the people who can teach us and social media it an amazing place to meet with new people.
There are lots of social issues that we need to be aware of. We can create awareness through social platforms. Suppose, you need blood for your loving one, but you are not finding a similar blood group that you need. In this case, you can post on these platforms asking for blood.
And there are huge people who love donating blood. The Internet is really fast nowadays, so anyone can search for information with a second. And anyone can store his information for others easily. It's a place where you can keep your photos, texts, and video saves forever.
Newspapers are using these platforms as a news medium. Most of the people on the internet are using social media. So they can find important news in their newsfeed easily, they don't need to browse or look at news websites anymore. The biggest social benefit is, we can get connected with our friends and relatives who live long distance.  
Negative Sides:
Apart from these good sides, there are few bad sides too. We need to be aware of these bad sides. Cheating in the examination has been really easy due to social media. Most of the time, some evil government workers leak the question paper, and students use social media to send it to others.
So it really makes a bad impact on our education system. Lots of good students are losing their grades, because of using social media a lot. In a case, it becomes addictive and the youth get too much attached to it. We need to limit using social media, and then we will be able to get the benefit from it. If we can control using it and be careful, we will be able to make it really good and amazing place for youth.  
Conclusion: After all, social media is an amazing place. As a student, you need to balance your study, sports, and using these.
Related Essays and Paragraphs: