My Dad My Hero: Short Essay (100 Words) for Class 1, 2
My father is not only a hero but also an inspiring character for me. He is the person that I follow regularly. I always wanted to become like him. He loves me and my entire family. He is a really supportive person. In his personal life, he is very successful and lots of people follow him as an icon or idol.
I feel really lucky and amazing to be with me. He is a great teacher too. He teaches me lots of important life lessons every day. I love my dad very much, he is my hero.
My Dad My Hero: Essay (200 Words) for Class 3, 4
My dad is the most special dad in the world. He is my hero. As like me, my dad is also a nature lover. Maybe I have gotten this from him. Because of his loving nature, our entire terrace has been turned as a garden. I always wished to make my own garden, but because of land lacking, I wasn't able to do that.
But my hero has done that on the terrace. Our terrace looks really naturally beautiful. I love spending time there. Lots of my friends have visited this garden. There are more than 30 plants and most of them are flowers. My father is a businessman.
After working hard for years, he has been able to build his own business. He is a person, who believes in people and loves team working. Team working is not easy; you have to become a great leader to control the team. He is a motivator and inspiring character.
I always become inspired to see his work. He is my icon and idol. I want to become like my father. He is very supportive and caring about me. I love him very much and wish him to live longer.
My Dad My Hero: Essay (300 Words) for Class 5, 6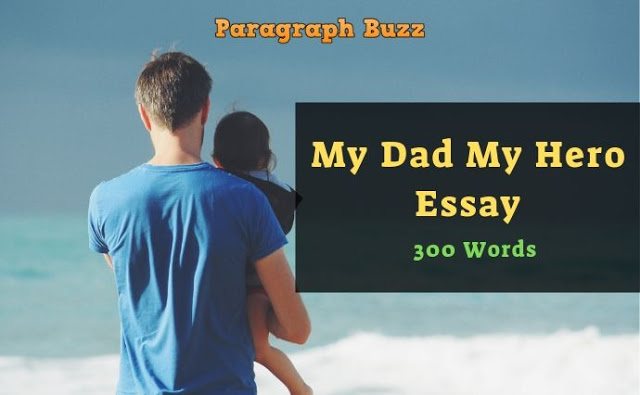 Introduction: My father is the hero in my life. Today I will share some interesting thing about this hero. He has the most significant contribution to my life.  
My Dad: My father name is Nikhil Roy. He is the best person I've seen ever in my life. When I was a kid, he used to spend all of his time with me. He was busy fulfilling all of my wishes. After so many years, he is still there to fulfill my desires.
Can anyone become that much supportive in life? None can, but only the fathers are able to do that for their family and for their kids. We have to love our fathers. They are the backbone of our family.  
Why My Dad is a Hero: There are a few reasons that are why I consider my father as a hero. He is the person who really cares about me and our entire family. We faced lots of problems before, but he is the one who was in front of us as a shield. He solved every problem and made our life better. He is the one who makes money to maintain the entire family.
It's not easy at all. I need money, my sister needs, my mother need, and overall, we need so much money to maintain the family. He is earning money with so much working hard. He is sacrificing his lots of hobbies and doesn't waste any of his time. These are the most significant reasons that are why I always consider my dad as my hero.  
Conclusion: Everyone's dad is the hero in their life. We should treat them as a hero too. They are really important and amazing in our life.
Essay on My Dad My Hero (400 Words) for Class 7, 8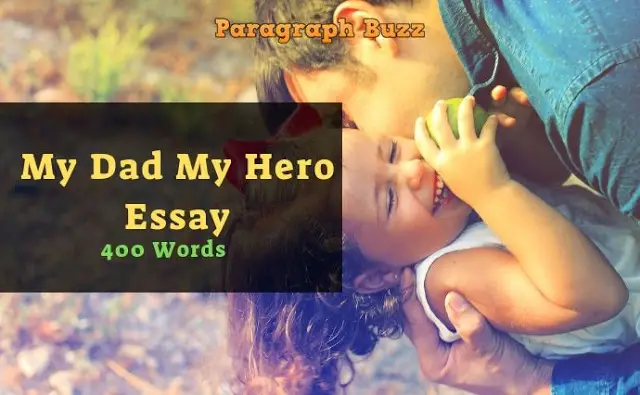 Introduction: In our life, we consider some people as a hero. A father is the most common hero in our life. In my life, I used to consider Superman, Spiderman, X-man, etc as my superhero. But when I realized the contribution of my father in my life, I started thinking of him as my hero. Today I will share my feelings and thinking about this hero.  
My Dad My Hero: My dad name is Sahil Kapoor and he is a computer engineer. He has built his own business based on developing websites and software. In the city, he already has been an icon for new entrepreneurs. My dad is always an appealing person to me.
Most of the time for his day, he has to spend it on his office. But he really loves to spend time with me and my mother in his free times. Especially at the weekend, we spend lots of time together. He takes us to small picnics. Sometimes we went out for lunch or dinner.
He is the backbone of our financial support for the family. He is the one who is making money to keep the family alive and going on. He works really hard for us, to give us a better life. I have seen that he doesn't waste any time, he puts that time to his work. That's the best thing about him. He is always connected with his works.  
His Special Skills: The most important skill of my fad is, he is a responsible guy. Whatever happens in our family, he takes the responsibility to solve the entire matter. As I said, he is a highly educated and polite person. That's why he can make a great impact on people's life.
He is a motivator, gives people better tips to live a better life. He is helpful and loving. When I face any study difficulties, he is there for me. From my childhood, he is my favorite teacher. His teaching technique is also amazing. I never found any teacher, who can teach you with that much love and caring.  
Conclusion: As like my dad, every dad is a hero. We should treat our fathers as a hero. They are the ones who fought the entire life for us and still fighting to give us a better life. We can't think of a better position without them.
My Dad My Hero: Essay (500 Words) for Class 9, 10
Introduction: In people's life, there is always a special person that we consider as a hero. I think a father is the biggest hero in someone's life. Today I will share my feelings about my dad as a hero. There is no doubt that he is the most important person for me in the world.
We all have awesome childhood memories and in most of them, I found only my dad. He is the closest person of me and always was there for me.  
My Dad: My dad name is Nelson Sharma, and he is a businessman. I think he is the most interesting person in this world. Most of the time he remains busy for his world, but when he finds the time, he loves to spend that with me and my mother.
We spend a really good time together. From my childhood, there are lots of memories that I can remember about my dad. He has been so much amazing, loving, caring, and supportive. Let's tell me the story of my first day the school. I was five years old when I arrived at the school for the first time.
My father is the person who escorted me there. I went and I was afraid, upset and sad about the whole thing. When I found lots of students like me in the classroom, it was really freaky for me. After the class, when I came back to my father he gave me so many important suggestions.
With his help and support, finally, I became able to make a few friends in the school. That was a huge turning point in my life. My father taught me everything that how should I act with people, how should I approach them. All these things have helped me to survive and live better.  
Why He is My Hero: I consider my dad as my hero. Yes, he is my hero and there is no hesitation about this. In my childhood, I was a too much demanding kid. My dad is the person who was there to hear me and let me wish make real. That was really amazing for me.
When I think about that memory now, I become surprised and amazed. Really he is the person, who can do anything for me. Every hero doesn't have superman suit, as like other fathers. I think every father is a hero. They fight for their kids, wife, family and other things.  
Special Things about My Dad: There are so many amazing and special things that I can say about my dad. The most important thing is a he is a regular guy and never become late in anything. His virtue is the one that I am trying to have. He is a great businessman and running one of the biggest export business in our city.  
Conclusion: My father is the most important thing to me in this life. He is my dream hero. I suggest everyone appreciate their father's contribution to their life and be respectful of him. He is the person, who sacrificed everything from his life to make our life better.
Similar Contents: