Today we are providing 5 different types and formats of Essay on the Importance of Games and Sports for you. This is a really important topic for school and college students. Even the graduation level students can use these essays for them. You will find a suitable one for you.
Short Essay on Importance of Games and Sports: 200 Words for Class 1, 2, 3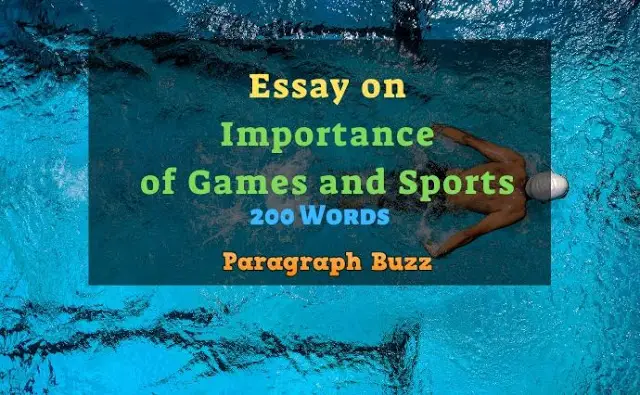 Sports and games are really important in human life. We should play games and sports regularly to build better physical and mental health. It helps us in several ways to get a better body. Especially the students should play more and more games and sports. Sports increase stamina and self-confidence. When you are playing a competitive game, you will learn lots of things in real. That will help you to grow your self-confidence. At the same time, your body will get lots of stamina. Both physical fitness and mental health become better by playing games. It teaches you lots of rules that help you to become a more disciplined person in the future. Games like chess are really effective to increase your mental health. Sometimes sports like football or rugby could be a bit dangerous for unprofessional players. But if everyone is friendly, then there is not a problem. Anybody should play football or games like this without proper training because that could fall you in an injury. Overall sports and games are really important in our life. We should play and let our kids play sports regularly.    
Essay on Importance of Games and Sports: 300 Words for Class 4, 5
Introduction: Sports are really important for the youth. An entire young generation should be involved with sports and games. There are lots of advantages to that. In this essay, we will talk about sports and games' importance in our regular life. Sports and games help people to grow physically and mentally faster. Even it helps to get interesting characteristics. And several games and sports competition makes people really competitive that are important for regular life.  
Teamwork: Sports are the best option to learn teamwork. We know it's easy to achieve something with a good team. Teamwork is not easy always if you don't have the proper knowledge to handle your team. If you play sports regularly, you have to be with a team. You will get a proper guide from the leader and once you become the leader, you need to guide them properly. In that process, you will learn how a team works and it will be great for your future teamwork. If a team can perform properly together, then anything is possible.  
Release Stress: Stress could be a reason for suicide in some cases. We all look for a way to release stress. Sport is an amazing way to release stress. When you are playing a game, your complete concentration will be on the game. In that case, you will forget other things that were happening with you. That will help you to get out of hard times.  
Conclusion: We all need to get some time for sports from our busy schedule because it's important for our physical and mental health both. And it teaches us so many real things. So from now, we should let our kids play more.    
Importance of Games and Sports Essay: 400 Words for Class 6, 7, 8
Introduction: Games and sports are part and parcel of our regular life. We should play more sports every day to keep ourselves healthy and fit. There are lots of researches and experts said that playing sports could be a really great option to be fit and keep our heart and organs healthy. Participating in sports reduces your stress and make your mood better. It is the best option to become healthy, fit, improves sleeps and improves self-confidence.  
Sports to Keep You Fit: Fitness is important in our life. If you don't remain fit and healthy, your normal life will be hampered. Most of the time, you don't need to do extra exercise if you are a regular sports lover.  
Sports for Kids: Kids should play regularly, first of all, it improves their immune system. It is a little bit hard to control the kids and their health. When a kid sleeps properly, it makes him fit for the next day. We need to let our kids play outside. It is a way of entertainment for them too.  
Improving Mental Strength: It is proved by the experts that sports can make your inner power stronger. It is important for mental growth too. The brain of a sportsman become so much fast and they become clever in their regular life. When the kids play games regularly, they learn several tricks to survive and it helps them to be mature in real life.  
Sports as Profession: There are lots of sportsmen we see and we follow as influencers and celebrities. All of them came from a really simple family. They did hard work and they understood their talent. As like this, there are lots of students are really good at cricket or football. The school should pick them and arrange special training for them. These students are future Virat Kohli or MS Dhoni. If you look back, all these legends came from the really normal area and normal family. Their parents and they cared about their talent. Even ordinary students also should get the opportunity to practice and make them strong physically. Physical strength is important for everyone. Without enough physical strength, you won't be able to perform better in your life.  
Conclusion: As you can understand, the importance of sports and games is very much in our life.  We should be involved in sports.    
Essay on Importance of Games and Sports: 500 Words for Class 9, 10
Introduction: Sports and games are a really important part of our life. It helps us to become strong physically and mentally. A good sportsman is a good human too. A sport teaches us so many real-life lessons that help us to understand the meaning of life. There is a huge importance of games and sports for students, ordinary people and almost everyone.  
Importance of Sports in Life: There are so many benefits of sports in life. First of all, let's consider the physical side. It is proved that regular sportsperson has a good heart. That's means, if you play games and sports regularly, it will improve your heart condition. Doctors say that sport is a strong option to prevent heart diseases. You won't find any people facing heart problem who is a regular player in cricket, football or another game. It makes our physics really strong, the blood vessels become cleaner. Even you can consider this as your regular exercise too. It reduces fats and cholesterol from the body that makes people really healthy. Overall sport is really important for good health. If you want to learn discipline, you can learn it from sports. Because there are some specific rules and regulations that you must need to follow in every game. You can't commit any action out of rules. If you are good in a specific sport, that could be your career too. Lots of people are getting connected with sports permanently and there is a bright career ahead. Even they are making a fair amount of money with their skill and entertaining characteristics.  
Never Give Up Mentality: Sports build a never give up mentality in your brain. You will face lots of a hard time and under pressure moments in the game. If you can overcome these moments and get a win, you will gain lots of self-confidence. That will teach you not to lose hope in your life. This mentality or mental strength is really important for everyone. If you are really strong inside, you will be able to make hard things easy in your life.  
Makes More Competitive: Competition is the core thing in a game or sport. There are usually two teams that compete with each other. In some games, there could be more than two teams. But the main thing is to compete with each other. End of the competition the best performer becomes the winner. So if you play games and sports regularly, you will get a competitiveness mind setup for your future. That will assist you to compete with bad moments of your life.  
No Need to Do Extra Exercise: You don't need to do any extra physical exercise to keep yourself healthy if you are a regular sportsman. It will keep you fit and healthy. There is no better option than playing sports to stay healthy.  
Conclusion: There is a lot of importance to sports in our life. We need to play and promote sports among the young generation.    
Importance of Games and Sports Essay: 600 Words for Class 11, 12
Introduction: We all play games and sports in our life. But nowadays, the time for sports and games are really limited for the students. They have to follow a tight study schedule or they don't have proper facilities for playing sports. The biggest problem is enough space or playground. In big cities, there are really fewer playgrounds for the students. That's a really threatening thing for the future generation. Sports are really important in many ways in our life. We are going to talk about this in that essay. I hope you will enjoy it.  
Sports in My School: In my school, sport is mandatory. We have a really big playground in front of our school. The field is really amazing for playing both football and cricket. Most of the time, students play cricket, but there is a specific season for football too. We have a really strong football and cricket team. Last year, we won the interschool cricket championship in our district. Our teachers are also really conscious of sports. They want every student to participate in different games. Not only cricket and football, but there are also some other sports too that we play. Our cricket coach is Mahmudul Hasan sir. He is a great person and really experienced sports coach. He is conscious of our fitness. We need to do proper exercise, before any cricket tournament. We play three main tournaments in a year. I got selected in the main team when I was in class nine. And then became a captain in class ten, and stills serving the school team as a captain. We have won lots of trophies under my captaincy. So overall, there is an amazing sports environment in my school. I wish every school to become a sport-loving place like my school.  
Importance of Sports in Student Life: A student's main duty is to study. But to keep balance in mental and physical health, we need to come out and do some physical exercise. And as a young boy or girl, there not other better option to do physical exercise than playing games and sports. It makes us really happy when we do something good in the game. Even if we lose, it teaches us to accept lose and walk ahead. Sometimes, we face hard times in the cricket pitch or football field. We learn how to control the pressure in a hard time. So the sport is full of lessons. We can learn lots of real-life lessons from it. There is no hesitation that the importance of sports is really high in student life. You must need to participate in lots of sports at that age.  
Sports to Spread Social Awareness: The youth is facing lots of problems these days. A big number of them are being connected with drugs and eve-teasing. In that case, sports can change the entire scenario. When a young boy gets free time, he wants to use it on a thing that he can make fun of. So it's not really surprising that they start taking drugs with bad company. But if that boy is connected with cricket or football, he will love the game automatically. He always will try to keep himself fit for the game. In that case, he will use his spare time to practice and will do physical exercise. Overall, it's a matter to enjoy the game. We know we all love playing and watching sports and games. We just need proper facilities to play that. So we need to promote games and sports with some social messages and spreading some social awareness to save our youth from the drugs and other crimes.  
Conclusion: We need to give our kids enough opportunity to play sports and games so that they can prepare themselves mentally and physically.
Similar Search Terms:
• importance of games and sports essay for 12th class
• essay on the importance of games and sports in 500 words
• essay writing on the value of games and sports
• importance of games and sports essay in English with headings
• essay on the importance of games and sports with headings
• importance of games and sports essay for 10th class
• importance of games and sports essay for class 9
• importance of games and sports essay in points
More Essays